Life of Luther Post-Tour ITINERARY AND RATE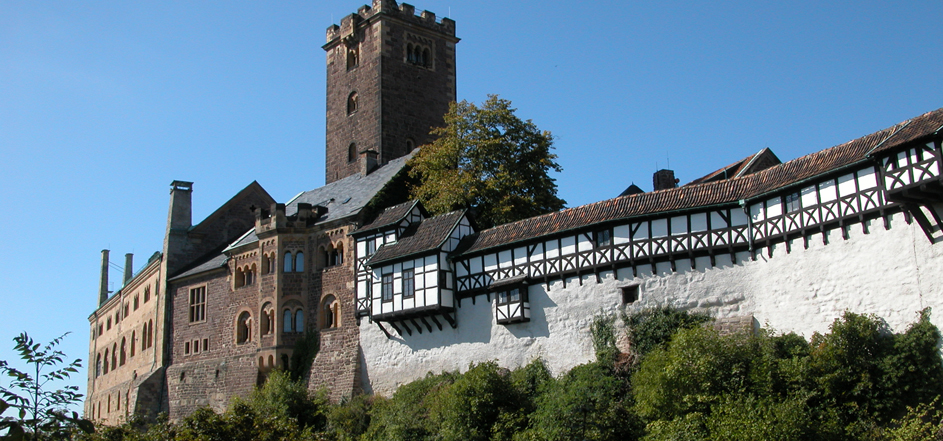 Post Tour ITINERARY: August 6th to August 10th, 2017
Day 1, August 6 (Post Tour) - Berlin - Eisleben - Weimar

After a traditional German Breakfast, we will explore Luther's home town of Eisleben. Martin Luther was born in Eisleben in 1483 and also died here in 1546. He spent most of the intervening years elsewhere, in cities like Erfurt and Wittenberg, but Eisleben always remained a place for which Luther retained a special affection.

It is thus quite poetic that he happened to be in his hometown to settle a dispute, when he died. Eisleben is a small city in Saxony—Anhalt, Germany, with a population of about 21,000. Since 1946, Eisleben's official name has been Lutherstadt Eisleben ("Luther-City Eisleben"), in honor of its close association with the great reformer Martin Luther.

We will briefly stop at St. Andrew's church where Luther gave his last sermons.

HOTEL: Contemporary Accommodations
MEALS: B, D

Day 2, August 7th (Post Tour) - Weimar - Erfurt

A student at Erfurt's famous university between 1501 and 1505, Luther first studied the "seven liberal arts", then theology and, at his father's wish, jurisprudence. But a dramatic personal incident brought about a radical change in Luther's life: terrified by a dreadful storm close to the city, during which he was struck by lightning, he took monastic vows and entered the Augustinian Monastery on 17 July 1505. In April 1507, Martin Luther was ordained as priest in Erfurt Cathedral.

HOTEL: Contemporary Accommodations
MEALS: B, D

Day 3, August 8th (Post Tour) - Weimar to Eisenach

Today we head to Eisenach and visit Wartburg Castle, including the Great Hall, the Elizabeth Hallway and the Luther Room where Martin Luther, disguised as a knight, translated the New Testament into German. This evening you will have the opportunity to enjoy a local rustic "Luther feast" in Eisenach. We will also visit the Bach House in Eisenach, Thuringia, Germany, a museum dedicated to the composer Johann Sebastian Bach who was born in the city. The museum displays around 250 original exhibits, among them a Bach music autograph.


HOTEL: Contemporary Accommodations
MEALS: B, D

Day 4

, August 9th (Post Tour) - Weimar - Berlin

After a full breakfast, we will head back on the autobahn for Berlin where you will have an afternoon free to explore Berlin before we end our time together at our last dinner lecture.

HOTEL: Luxury Accommodations
MEALS: B, D

Day 5

, August 10th (Post Tour) - Departure from Berlin

For those of you flying home, Sovereign will be arranging all of your transfers from our hotel to Berlin International Airport.

MEALS: B

We would also like to invite you to join Ligonier for a special event, which falls conveniently after our Reformation Study Tour & Cruise on August 11th, 2017: The Ligonier Wittenberg Conference with  W. Robert Godfrey, Steven Lawson, R. Albert Mohler, Matthias Lohmann, and Steffen Mueller: http://www.ligonier.org/events/2017-regional-conference-wittenberg/.  It promises to be an encouraging and edifying time of remembering the past and looking to how it informs our future.  All cruise and tour guests will receive complimentary admission.

Please Note: Schedule of tour events is subject to modification without notice.

POST-TOUR RATE:




Rate based on double occupancy: $2,573.00 per person




The rate for your tour includes conference fees, taxes and gratuities, luxury accommodations, luxury coaches, dynamic conference times with our speakers, and concierge service from Sovereign's Guardian Angels throughout your entire journey.

Fees NOT Included: Airfare, excess baggage rates, meals not included in the itinerary, all items of a personal nature such as laundry, cleaning, telephone, telex or fax expenses, beverages including tea and coffee (except at breakfast), wines, liquors or soft drinks. A local tipping guideline will be provided with the customer documents for any service purchased by guests on their own.

*Single accommodations are subject to availability.

To fully participate in this tour, you must be able to walk long distances, have good balance capabilities and be able to walk on uneven terrain. There will also be some climbing involved as well as long periods of standing. Due to the historical nature of some of our destinations, not all facilities will be ADA compliant.